Products Information
The Livitician® Network recommends selected foods, supplements and even kitchen appliances that can significantly contribute to your optimal wellness. We strongly suggest all supplements be taken under the supervision of a Registered Dietitian or other Healthcare practitioner.
Please contact Deborah for her recommendations to meet your individualized needs. Livitician@Gmail.com

Deborah is the author of a book titled: 200 SuperFoods That Will Save Your Life, published by McGraw-Hill, released January 2010.

---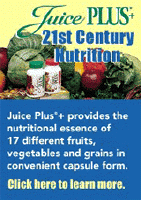 Juice Plus - 17 Fruits & Vegetables & Grains.
Whole Food Nutrition in a capsule.
Available at www.LivitJP.com

Whole Food Nutrition in a Vegetable Capsule!

Click Here

---
Meta eHealth.com - Health products and health information.
Click here: www.livetician.meta-ehealth.com

METAGENICS- GENETIC POTENTIAL
Through Nutrition - Nutrition Supplements To Reach Your Optimal Balance!

---
Unicity Health Products


One of Unicity's unique contributions to making life better is our nutritional products. Unicity formulates the most complete selection of high-quality, potent, safe, effective, scientifically-based nutritional supplements available anywhere. In addition to offering all of the familiar products, we're proud to offer a wide selection of proprietary and "breakthrough" products, all developed by our dedicated team of scientists and researchers.
Click here to purchase Unicity

---
Kangen Water
Eat Clean, Drink Clean - Enagic USA Kangen Water - Change Your Water, Change Your Life
http://moreinfo.mykangenh2o.com
http://yourbody.mykangenh2o.com

---
Free Resources
Nutriant.com - Nutrition, Healthy Living
Contact a healthy living expert now over your phone with no long distance internationally.